"We only had one heart-to-heart kind of talk, and he helped me talk out a lot of the stress and suicidal thoughts I was having. He never told me he was experiencing similar thoughts, and I regret not talking to him more and being more involved in his welfare.
Concerning his death, it was a shock to me. I wish I did, but I had no way of knowing he was going to hurt himself."  
                                                          -Caleb (Aarons Roommate)
On July 2 2019 a knife wielding Aaron Hong was shot dead in Athens Georgia.  Athens-Clark-County Police Department released body cam footage that showed, first hand, how the drama unfolded that day.
The investigation stated that officers were called to River Club Apartments over a disturbance.  Both videos that were released came from cameras worn by both the officers who were involved.
After they exit the car Hong can be seen wearing a yellow t-shirt with blood dripping on it and dark pants.  He wields a butcher knife as he slowly advances toward the officers.
The officer can be heard yelling to Hong, "Put the knife down! We can help you! Don't do it! Please, sir! We can help you!"
Despite the officers plea Hong continues his advancement on the officers.  As he continues to move towards the officers, Hong is heard yelling in response, "Do it!"
Hong charges once the officers are backed up all the way to the highway.  Shots are fired and Hong falls to the ground in mortal agony, but he quickly gets back up.  As he gets back to his feet the police attempt to use non-lethal force but by then it's too late.  He gets a hold on one of the officers and starts going for the gun.
be heard yeOne of the officers canlling No! No! No!" As he takes aim of Hong and fires his gun repeatedly at him until he falls to the ground.
Hong died on the spot.
This picture depicts Aaron Hong in front River Club Apartments as police response arrives on the scene.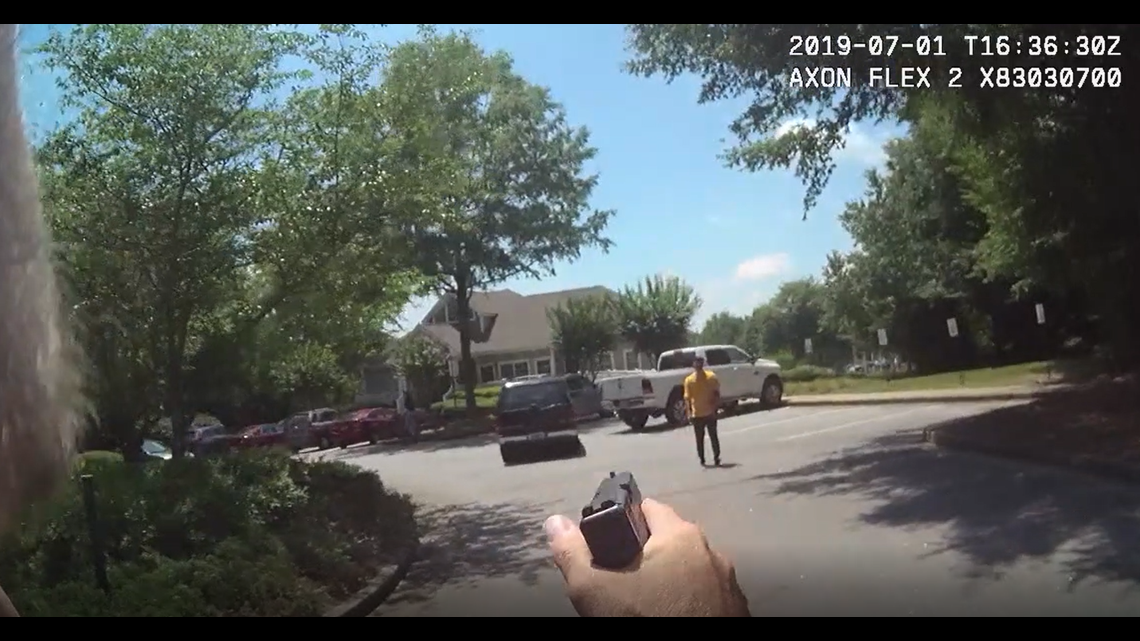 There were no tell tale signs.  Friends and family had no idea that Aaron Hong would fly off the deep end.  This strange behavior was completely random.
   Aaron Hongs roommates took to Facebook
"I am sorry that anyone, officer or not, had to be involved in this incident. I wish I was there to talk to Aaron before he hurt himself. I offer my deepest condolences to Aaron's family and friends. I also wish peace of mind to the officers who will no doubt have to remember this horrific scene for the rest of their life. Please let this incident be a call to action: please cherish the people in your life while you can. Express love and care to everyone you can. If you think you can't, please try. This world could use a lot more love, patience, and understanding."
God bless you all,
Caleb Wilder
The other roommate remarked on Facebook:
Let me clarify to some of you why I wrote this post. I HAVE seen the footage, so I am aware of what happened. I counted Aaron as a friend, and am defending his honor against those who would "label" him and make assumptions about him.
   The fact that he tried to end his life, and that he got others involved with his death is terrible. No doubts. He shouldn't have ran at the police. He shouldn't have tackled the one officer and reached for his gun. However, Aaron was human. His life mattered.
  The Aaron I knew was not crazy. Not a psychopath. I now know he was hurting and he let that lead him to decide to make a terrible choice. I strongly wish and believe there could have been a different outcome from the incident."
Both of the officers survived the ordeal.